This post has first appeared in

La nomade sédentaire

, a blog about collaborative economy (home exchanges, coworking, etc.) edited by our coworker Katia, translator and passionate about the sharing economy.
In just a few hours, we will say goodbye to 2014. And if you say "new year", you're saying it's "time to look at the results". This blog is dedicated to all that touches us from near and far in the collaborative economy. I wanted to sum up my first complete year of coworking – one of the products of the famous sharing economy.
Ramon, Stefania, Sara (or Ramoncita), Alicia and the others: this is for you!
A translator in peril
It was just o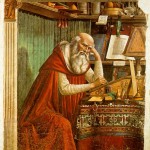 ver a year ago. After years of working from home, alone, abandoned, tired of having to buy bread I wouldn't eat or newspapers I wouldn't read just for the simple pleasure of exchanging a few words with another human being and to hear my own voice, I decided to take the step and try the coworking experience that we hear so much about, I chose the one nearest to me, and the best reported: Betacowork..
And if we shared?
[Tweet "I was expecting to find just working space; a year later I have to say that I found a lot more"] than that. For at Betacowork we share a lot more than space: we share knowledge, opinions, humor, or even recipes (Yes, yes – we're talking Betacooks), addresses, the right plans, gossip and so much more.
Here's a little (but not exhaustive) list of experiences and discoveries that I would not have made this year had it not been for Betacowork and its' "Inhabitants":
Serendipity
What? Serendipity, as I have previously explained (Vous avez dit "sérendipité?"), is to find that which is better than you had been looking for. I didn't even know this word a year ago. The first time I saw it was when I first read Ramon's signature, the man who runs the whole show, in a mail. It is Ramon who defines his title as "Serendipity Accelerator". In the weeks and months that followed, the term took on more sense. At coworking, I went from one discovery to another, contacts multiplied, as did happy times. What I discovered was much better than what I was looking for. Read the rest of the list and you will understand.
Betagroup
The Betagroup is the first tech community in Belgium. This community frequently organizes events during the course of the year where young start-ups have the chance to present their projects to an audience composed of members of Betagroup, and also investors
and journalists.
So it's only natural that my nosy curiosity pushed me to attend some of these events, notably discovering ambitious start-ups within the collaborative economy, and learning more about the plans and motivation of these young hopefuls.
Like to find out more? Read (or re-read) my post dedicated to my first steps in this strange sect communauté (To tech or not to tech…).
The Startup Weekend
The Startup Weekend, what a wonderful discovery! What energy! What dynamism, what talent! A weekend like no other that will leave a lasting impression. The idea? Create a start-up in… 54 hours. And guess what – it's possible!
To find out more about this adventure, it's this way (Alice au pays des start-up)!
WordPress and my blog
WordPress is what we call a CMS (content management system). Basically it permits people who don't know a lot to create and maintain a blog, or even a website. Before I came to Betacowork, I had never heard of it. And now, after being surrounded by geeks passionate about new technology during just a few weeks, I heard this word more and more. My dear coworkers showed me through word and deed what it was all about, which allowed me to create this blog. This blog being a direct product of a year of coworking!
The day I learned that one of my dear coworkers was prepared to generously share his expertise in WordPress, I didn't hesitate. Thank you Louis, thanks to you I have improved my command of this new tool. Thanks also to Amandine, young and talented designer who helped me put color and form into my blog. Thanks also to Pascal as much as Eric, these kind developers without whom these words would not even be on line.
A bum story

My coworkers are certainly multi-talented. That's how I discovered that one of them was not just a designer, but also an actor. So I hurried along to admire his bum on stage, as his piece was called Ladies Night, inspired by the film "The full Monty" (or is it the other way round?)
As you can see, there's no limit to where coworking can take you!
Thierry, you and the others were perfect!
Thanks again for a wonderful evening!
Contacts
I've already mentioned quite a few coworkers who have made 2014 a year rich in discoveries for me. But I can't mention them all as I'm sure I'll forget some, but the list is still long.
Just a few words on my closest neighbours in coworking:
To my left, Pierre, translator-entrepreneur-dreamer, all this with kindness, patience and humour, and blessed with an unnatural strength in his fingers (his keyboard renews it every day), who has been at my side all through the year.
To my right, Fred, copywriter – author – dreamer – instructor (of Krav Maga) – blogger, with whom the days have alternated between side-splitting laughter and animated debates (we still don't agree on everything, but seeing as I'm always right about everything, and that he's a man, I'll often let him have the last word, because, as a man, he needs to have his ego flattered.
I should also mention Muriel, Aurélie, Manu, Marina, France, Victoire, Jeremy and other wonderful contacts I've made in 2014, but this post would never end.
To plunge you into the sense of a typical day with my favourite coworkers, I invite you to (re) read my post: Voulez-vous coworker avec moi?.
I've had a superb year, thanks for contributing to it…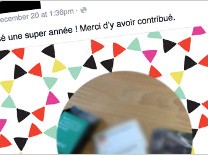 Voilà. Thank you all, and thanks to Ramon and his colleagues for making everything possible. I know I'm talking for the majority of coworkers; even those who have not yet realized how much Betacowork can bring to them.
[Tweet "Each day I'm a little more convinced: coworking is the solution"] of the future for us the independent, but also for online workers and others. Coworking is a way to be close to others, to exchange knowledge, ideas, in short to create great things together and contribute, together, to a better world.
Tradition dictates that as a year ends we give our best wishes to our nearest and dearest.
For this, I'll borrow the words of Jacques Brel, first spoken on the 1st January 1968 on Europe 1:
" I wish you dreams without end and the furious desire achieve some of them. I wish you to love what should be loved and forget what should be forgotten. I wish you passions, I wish you silences. I wish you birdsong on waking and the sound of children's laughter. I wish you to respect the difference of others, because the merit and the value in each of us are often still be discovered. I wish you to resist deception, the indifference and negativity of our times. And finally I wish you to never to renounce the search, the adventure, life and love. For life is a magnificent adventure and only a fool would give it up without putting up a hard fight. I wish above all for you to be yourself, proud to be happy as you are – for happiness is our true destiny."
Jacques Brel
I wish you a 2015 rich in every aspect: laughter, sharing, meeting, dreaming, playing, creating, daring, but above all, love, love till you're worn out!
La nomade (coworker)